Okay, so I've been here for a day and I think it's probably about time to give you all an update.
First, my apologies for being too busy to take any pictures. I managed to snap a shot of a blue police box that unfortunately was not bigger on the inside as I struggled up Cathedral Street with groceries for my new flat, but I've been on the go the rest of the time.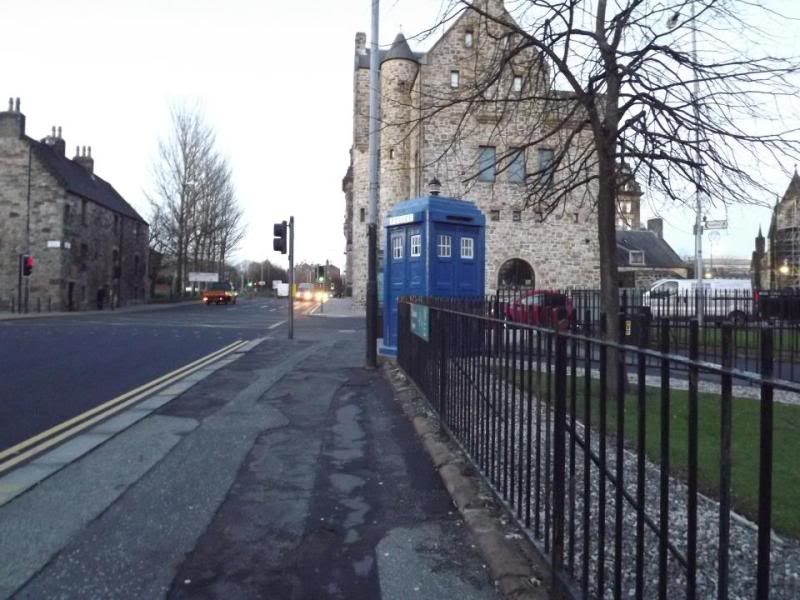 I spent the last night in the United States worrying that something would go wrong and clinging to my last moments with the people I now will not see for five months. I packed up in the morning, double checked my documents, headed out, arrived two hours early, and was told, "Your flight may be delayed five or ten minutes," which calmed my fears a bit. I left my family and my boyfriend at the security checkpoint (trying–and failing–not to cry as I did so) and headed off by myself to the gate. Okay, so far, so good. Then there were whispers about a delay, and I looked up at the screen to see a forty minute delay. Annoying, but I have a five hour layover; I was prepared for this. More waiting, reading The Fault in Our Stars–then more whispers. "Looks like the flight has been cancelled!"
My thoughts: WHAT. I AM NOT PREPARED TO DEAL WITH THIS. WHAT IF I DON'T MAKE IT TO GLASGOW? WHAT AM I GOING TO DO!?!?!?! WILL I HAVE TO BUY ANOTHER TICKET? I CANNOT BE ON MY OWN. Oh look, there's a line forming, better join them. DON'T PANIC.
Well, luckily, my thoughts were ridiculously dramatic. The girl in front of me, heading to school herself, calmed me down and let me borrow her phone. A short wait in line and a talk with one of the workers got me rerouted through Dallas instead of Chicago, and I was back to my seat to wait for that flight to arrive two hours later. I was on my way.
From there it was pretty smooth sailing. I slept on my way to London and finished The Fault in Our Stars (thanks for making me cry next to the grumpy guy in the aisle seat, John Green) and the eight hours went pretty quickly. Of course, I couldn't stop myself from looking out the window and thinking "THAT'S IRELAND!" or "OH MY GOD THAT MUST BE WALES!" so of course the end of the flight was an awful daze of nausea, but at least I was excited. When I arrived, I was determined to know where I was going, even if I didn't really. I at least looked like I wasn't clueless, although my panic at the airport bus driving on the wrong (but really, the right–well, left, but YOU KNOW WHAT I MEAN, OKAY) side of the road probably gave me away. Getting in the United Kingdom was so much easier than I had expected it to be, and before I knew it, there I was in Terminal 5 of Heathrow. Gucci, Prada, and Chanel all in a row, and even I was impressed. I had lunch in the airport and wandered around taking it all in as I waited for my next flight. Everything that was even slightly different was exciting. I'm allowed to be tourist-y for awhile, right?
I met up with another girl from my home school studying abroad at the University of Strathclyde while we were at Heathrow. We were supposed to meet in O'Hare, but you know how that went. I am kind of glad it happened the way it did though. It made me realize that things are not as big of a deal as I expect them to be, so I didn't worry as much for the rest of my trip. AND I can say that I made it all the way to another country BY MYSELF. It's small but it makes a big difference in my confidence here. The flight to Glasgow was quick and I had the whole row to myself (!). No problems with my bags, and then the issue was just getting to the Village Office and checking in! We climbed in a taxi and struggled to understand the driver's accent (people say you'll have difficulty understanding the accent and when you're back home you don't believe them, but it's so true) and soon we were checking into our flats.
The first day? That's an adventure I'm too worn out from to write about just yet.